Looking for translated coronavirus (COVID-19) resources?
The following links contain translated information about COVID-19 in a range of languages:
COVID-19 (Coronavirus) Translated Resources - Information in Your Language 
Ethnolink Language Services provides translated information in 71 languages.
Health Translations - Coronavirus
Health Translations provides a range of translated resources about COVID-19, health and wellbeing.
Translated coronavirus (COVID-19) resources 
The Australian Government Department of Health has produced translated fact sheets and other publications.
Coronavirus explained in your language – Videos from SBS
SBS has developed a range of videos explaining COVID-19 in your language.
Translated resources – coronavirus disease (COVID-19) 
The Victorian Department of Health and Human Services have a range of translated information including fact sheets and promotional materials.
NDIS - Information in languages
The NDIS have provided a list of translated information.
North Western Melbourne PHN - Stay safe, stay home
Watch COVID-19 public health videos in 18 different languages. 
COVID-19 Support for Australian Refugees (CSAR)
CSAR provides refugees, migrants and conflict-affected Australians access to mental health support. 
Beyond Blue - Languages other than English
Download information on managing your mental health during the COVID-19 pandemic in languages other than English.
For service providers
Guidelines For Working With Indigenous/CALD Populations During The COVID-19 Pandemic
Practical guidelines for health professionals working with Indigenous and CALD people during the COVID-19 pandemic.
Look after your mental health, Australia
Members of the Embrace Project's CALD Mental Health Consumer and Carer Group have developed videos for Mental Health Australia's 'Look after you mental health, Australia' campaign.
During this time of physical distancing and heightened anxiety in our community due to the coronavirus (COVID-19), we are encouraging all Australians to look after their mental health.
To find out more, and to share your own tips on how to look after your wellbeing and mental health, follow #LookAfterYourMentalHealthAustralia on social media and head to lookafteryourmentalhealthaustralia.org.au.
Ali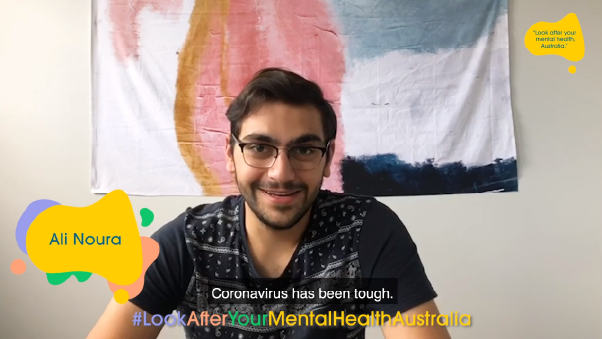 "Helping other people is really one of the best ways we can look after our mental health." Wise words from Ali.  
Jennie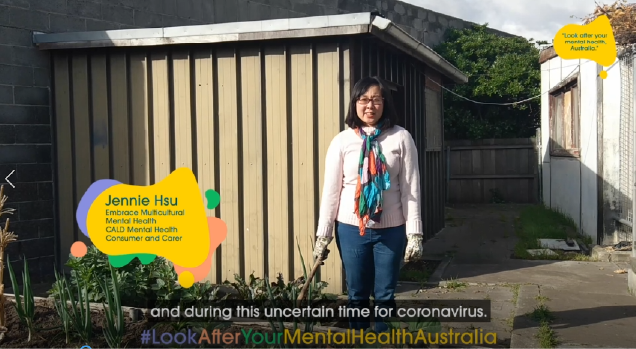 Jennie shares some tips on how to look after your mental health, and gives us a glimpse into her amazing garden.
Tandi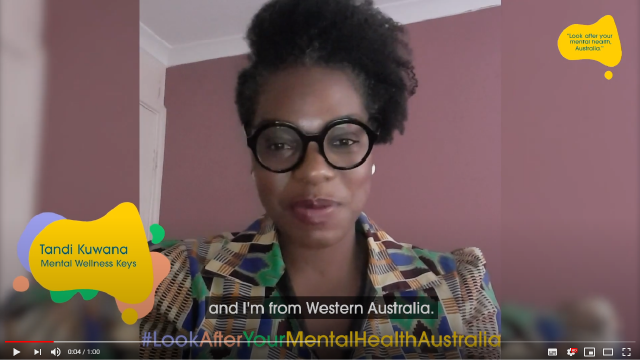 Tandi shares some fantastic mental health tips.